Details

Category: Non Muslims
Published on Monday, 18 February 2019 09:04
Hits: 0
What is Paradise ?
The reality of Paradise is something which people will never be able to understand until they actually enter it, but God has shown us glimpses of it in the Quran. He has described it as a place essentially different to the life of this world, both in the very nature and purpose of life, as well as the types of delights which people will enjoy therein. The Quran tells people about Paradise, which God offers to them, describes its great blessings, and proclaims its beauties to everyone. It informs people that Paradise is one of two ways of life prepared for them in the afterworld, and that every good thing will be theirs in Paradise to a degree that surpasses our present ability to imagine. It also shows that Paradise is a place where all blessings have been created perfectly and where people will be offered everything their souls and hearts will desire, and that people will be far removed from want and need, anxiety or sadness, sorrow and regret. Every kind of beauty and blessing exists in Paradise and will be revealed with a perfection never seen or known before. God has prepared such blessings there as a gift, and these will be offered only to people with whom He is pleased.
Details

Category: Non Muslims
Published on Monday, 18 February 2019 08:16
Hits: 0
15 Things About The Character of Prophet Muhammad (PBUH)
Everybody should know.
If there is any personality that has lived on the face of this earth who was complete in every regard and the life of whom can serve as a beacon of guidance for people of every walk of life, that personality would undeniably be the personality of Muhammad (PBUH). Muslims follow Him because of Him being the Prophet as their religion and those who do not follow Islam also hold Him at a higher pedestal when it comes to human character.
preschool kids app
Prophet Muhammad (PBUH) was born in the Arabian Peninsula in the city of Makkah about 1400 years ago. Since then the world has not seen the likes of Him in every regard and the study of human history shows that there have been none better than Him before Him as well.
Read more: 15 Things About The Character of Prophet Muhammad (PBUH) Everybody should know.
Details

Category: Non Muslims
Published on Monday, 18 February 2019 08:04
Hits: 0
WHAT IS THE QURAN?
There have been many incredible works of literature, such as Shakespeare's plays and fantasy epics like Lord of the Rings. What ties these works together is that they are the product of great human minds. As amazing as these works are, can you imagine how much more amazing a book would be if God Himself authored it, surely it would be the greatest book ever produced. Moreover, imagine that God answers all the important questions that human beings have about life, such as why we are here and what happens to us after we die. Finally, imagine if God authored this book with you in mind, a book that addresses you as an individual. Wouldn't you want to read such a book? The Qur'an is exactly that book.
Details

Category: Non Muslims
Published on Monday, 18 February 2019 07:49
Hits: 0
Miracle of Allah and Final Testament to Humankind
"The Quran: literally, 'that which is often recited.' A web of rhythm and meaning, the words of which throb through Muslim worship and which, at every point in the believer's life , break surface, sanctifying existence with the scent of eternity." [Abdul Wadod Shalabi in "Islam – Religion of Life"]
The Quran represents the fountainhead of Divine guidance for every Muslim. Its revelation to the Prophet Muhammad (peace be upon him) and his practical implementation of the revelation, completed God's blessing for humanity, in providing us with a belief and value system that is valid for all times.
The Quran confirms the revelations given to earlier Prophets, though these might not be accessible to us, in the form they were originally revealed. The most sublime language and a rational message that directly appeals to the human heart have caused this Divine book to move nations and civilizations. It will continue to guide those who turn to God with a sincere heart, for all times.
Details

Category: Non Muslims
Published on Monday, 18 February 2019 07:32
Hits: 0
Who Is the Prophet Muhammad ?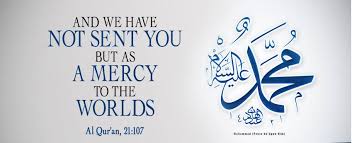 Muhammad was born in Makkah in the year 570. Since his father died before his birth and his mother died shortly thereafter, he was raised by his uncle who was from the respected tribe of Quraysh. He was raised illiterate, unable to read or write, and remained so till his death. His people, before his mission as a prophet, were ignorant of science and most of them were illiterate. As he grew up, he became known to be truthful, honest, trustworthy, generous, and sincere. He was so trustworthy that they called him the Trustworthy.1 Muhammad was very religious, and he had long detested the decadence and idolatry of his society.
The Prophet Muhammad's Mosque in Madinah